I am going to attempt to live up to these wonderful bloggers and pass on the joy. Hope you all enjoy them as much as I do!
This is from Samantha at
Have Sippy Will Travel
, and Lil Bit at
Lil Bits, Big World
, both thought I deserved this award. How great is that? So I am honored to accept. The only caveat is that the award originally required that you pass this on to 15 bloggers. That would be a bit much for me to do so I will choose 1. Here's the recipient.

To the Mad Woman behind
A Diary of a Mad Woman
, I love reading your blog. Such a wonderful take on life you have. Enjoy!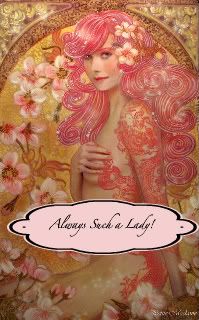 This one came from Miss C at
Life As I See It
. She thinks I'm a lady. The poor soul. I do appreciate the thought and I will pass this on to a couple of ladies I think deserve it.
A lady always has your back no matter the situation.
A lady always takes life in stride and comes out on top.
A lady always knows how to use her stilettos to her advantage.
A lady always knows how to spread the love.
A lady always knows how to keep my in stitches.
There you have it. Awards for the week and hope you all will check out the ones I chose to pass them on to. You better, cause I do. And while we're at it, don't forget the Fawk You Friday hop that will be on the agenda tomorrow. I expect to see you all there too.