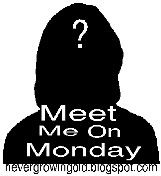 I haven't participated in this before but thought it looked like fun. Our blog peer, Java at
Never Growing Old
, is the wonderful host for this. Hop over there and join in the fun. So here goes.
1. Do you wear socks to bed? No. I wear a cami and panties. Used to be really naked, but when I did, it was almost expected that I "perform". Not every night thank you.
2. Do you have any pets? Yes. Two dogs, Boo and Maddy.
3. What topping(s) do you like on your pizza? I'm a supreme pizza girl. Must have peppers and black olives.
4. What time do you go to bed? That varies, but mostly between 10 and 11pm.
5. Would you rather get free chocolate for one year or free potatoes forever? Neither. I really don't eat either one of them.
Let's hear your answers. Hop over and grab the button and tell us what your life is like.