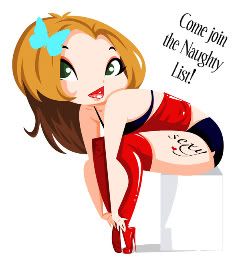 It's a new hop! I have to admit I don't do a lot of naughty things, but I'll try to come up with the required 3 naughty things I've done. We'll see. You know how absolutely perfect I am. I know, I know. I'm about to blow your image of me. Now on to the rules.
You must follow all the hosts. I was already following 2 of them and they are awesome. Since they're joining forces with the other 2, I'm thinking they are just as awesome. The next thing you have to do is list 3 naughty things you have done and it can be from way back or is can be from recent history. Your choice. So here's mine.
1. The other day I pretended I had a headache so I wouldn't have to spend the entire afternoon with drunk people. I don't have anything against drinking, I just wasn't in the mood to deal with them.
2. I called my family stalker a bitch. I know, she deserves it, but I don't have to sink to her level. OK, this one may come up again.
3. I bought a new camera and didn't tell my husband. If you knew him you'd understand why and that's all I'm saying.
Come on join up with us. It will be loads of fun!