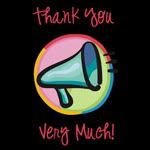 It's that time again! Yes, it's Thank You Very Much! Kmama is the host of this hop and since she is funny and smart, you must follow her at
The Daily Dribbles
. Go check her out and join us. Here's my list for today.
Thank You Very Much to the nasty humidity THAT REFUSES TO GO AWAY! OMG! I think I will just melt away into the earth from whence I came.
Thank You Very Much to the bugs that love humidity. Can't I just go take photos for a short time WITHOUT BEING EATEN ALIVE? Is that the price I have to pay?
Thank You Very Much to my husband who decided during the middle of this nasty humidity and heat wave to TURN UP THE THERMOSTAT ON THE A/C! Who's fault is it anyway that he waited to have the unit looked at and made it run continuously? The condenser never shut off running up the last bill.
That's it for now. Jump over to
Kmama's place
to join us. I know you'll love it.