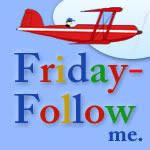 Joining in the Friday Follow Me hop this week. I'm looking forward to finding new buds.
I found this challenge through another blog I follow,
Homesick Cajun
, and I'm a bit late getting into it but I'm giving it a shot. And since I am so far behind, I'm going to try to catch up. Of course, I'm 16 days into it, so we'll hope I can. I'll do 5 a day till I get caught up. This should be fun!
Day 01 → Something you hate about yourself. I hate the fact that I do not have the will power to stay with a diet plan. I let other things get in the way.
Day 02 → Something you love about yourself. I love my sense of humor. It really does help get me through some of the hardest times in life.
Day 03 → Something you have to forgive yourself for. I still don't think I did enough for my daughter before she died. Logically I know I did, but there's always that little inkling in the back of my mind.
Day 04 → Something you have to forgive someone for. I need to forgive my in-laws for what they did to me during my husband's emergency hospitalization 3 year ago. I just don't know how to do that because what they did hurt me more than they, or my husband, will EVER realize.
Day 05 → Something you hope to do in your life. I would LOVE to take an Antarctic cruise. It would be so awesome to see those icebergs and just the clean environment.
There is more to come!