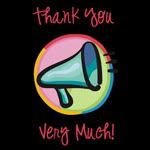 Welcome to another edition of Thank You Very Much. The place we get to thank anyone, everyone, and whatever has annoyed us this week.
I first have to give a sincere Thank You Very Much to the people who take care of the unemployment. They reinstated mine! I can breathe again.
THANK YOU VERY MUCH to insomnia. Can you at least hold your visits to ONE DAY A WEEK INSTEAD OF FOUR?
THANK YOU VERY MUCH to my computer. Would you STOP EXPECTING ME TO BE A COMPUTER PROGRAMMER! I don't know that much about how you work.
THANK YOU VERY MUCH to the allergies that MAKE ME SNEEZE ALL DAY AND MY MAKE MY EYES WATER TOO!!!
That's what I have for today. Since I am always being irritated, I'll have more tomorrow as it is FAWK YOU FRIDAY! Remember to head over to Boobies, Babies, & A Blog to grab the button and enjoy your tour of her blog. Join us tomorrow for more fun!